Realtors beware, the online Bid Log is coming! From January 1, 2023, its use will be mandatory for members of brokerage associations NVM, Vastgoedpro and VBO. Later that year, it will probably even become mandatory by law. As an initiator, you are always well prepared at Eerlijk Bieden .
You've probably seen it pass by in the news, but how exactly does it work? Eerlijk Bieden has written a number of helpful blogs for you with which we provide you with the latest news and tips.
Initiator of the online Bid Log
Eerlijk Bieden successfully introduced the online bid log to the Dutch brokerage industry in 2021. After attending a Roundtable discussion, several Parliament letters and signing a Covenant, the time has finally come!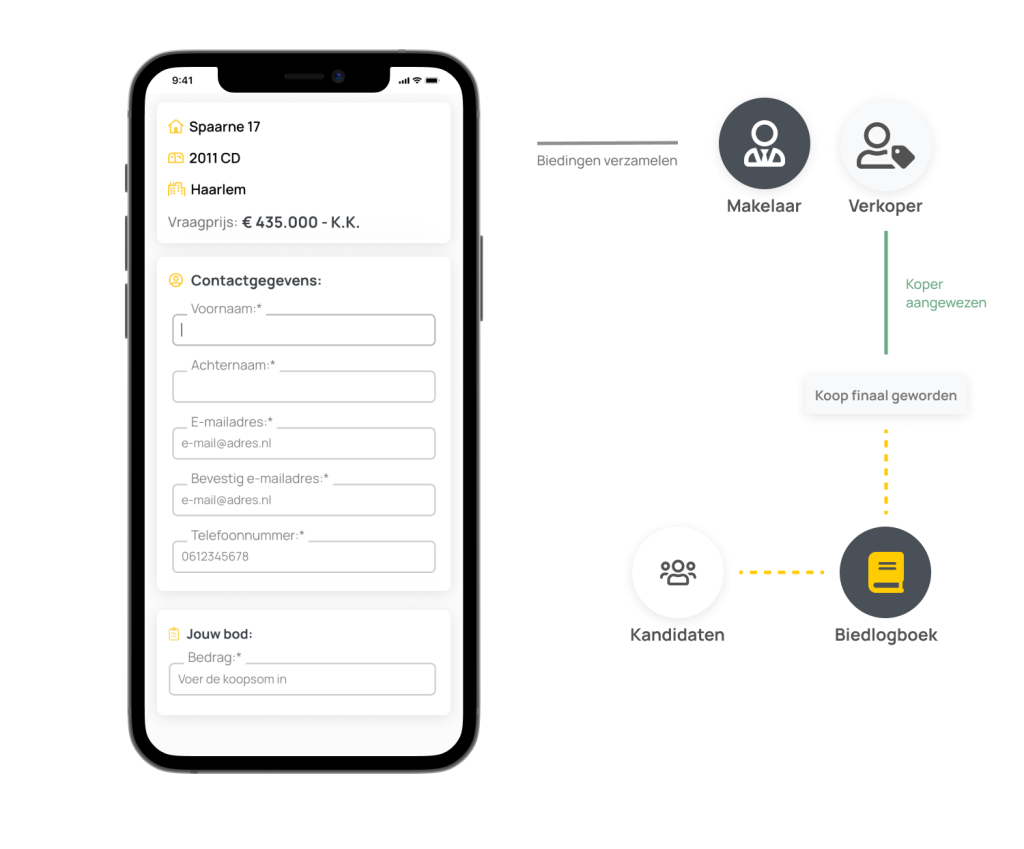 Created in just one click
Keeping a logbook sounds like extra administrative work, but nothing could be further from the truth. With Eerlijk Bieden 's dedicated bid software, you generate a Bid Log in a lightning-fast one-click process, regardless of your choice of CRM package. 
What does this ultimately benefit the consumer?
The online Bid Log was created by Eerlijk Bieden under the guise: trust is good, control is better. With the tools at Eerlijk Bieden , a broker can finally differentiate himself from the cowboys in the market.
Does this system work even in a weaker market?
Yes indeed, the logbook is a means for candidates to check the process afterwards. Therefore, it does not matter whether 1 or 30 candidates bid.
Since the launch of Eerlijk Bieden in 2021, around 1,000 homes have already been sold with a bid log in price categories from €100,000 to €2,500,000. As far as we are concerned, a sign that it is working well!
Does this violate the AVG or other privacy rules?
No, there are some precautions for this. The Bid Log can only be viewed by verified candidates who have bid on an item. 
Then the Bid Log itself can be found on a secure web page.
Finally, money that all traceable personal data is anonymized by default.
Is this the same as the Norwegian model?
For a while there was talk in the media about the so-called Norwegian model. This is a form of bidding where anyone can watch in an open auction.
The Bid Log is an overview of the sales process which is shared afterwards. This gives candidates the insights they want, but keeps the seller's interests protected.