The quality mark for brokers
It's time for an
Fair
Bidding Process
Eerlijk Bieden is a completely independent quality mark for real estate brokers that guarantees consumers a 100% fair bidding process. Thanks to the use of our smart bidding platform and audits, we contribute to a fair buying process!
The goal of Eerlijk Bieden is to make all housing transactions in the Netherlands fair. Fortunately, we are well on our way!
Don't worry you are not the first. We have had the pleasure of helping many candidates make an offer on their dream home.
Eerlijk Bieden currently has more than 1,000 affiliated members. They guarantee expertise and quality every day.
What exactly is Eerlijk Bieden ?
Eerlijk Bieden is the new quality mark for real estate brokers. To ensure the quality of our seal of approval, we have set up a special bidding platform to enforce the applicable industry rules and therefore generate a 100% reliable Bid Log.  
The result of a successful pilot among real estate brokers and consumers! Selling a home as a broker is now easier than ever, with just a click of a button.
Prevention is better than cure. Nevertheless, it can happen that doubts arise about a bidding process. To maintain our quality mark, we use random audits among our members. Do you, as a consumer, have doubts about the process? No problem, send us a message and we will find out!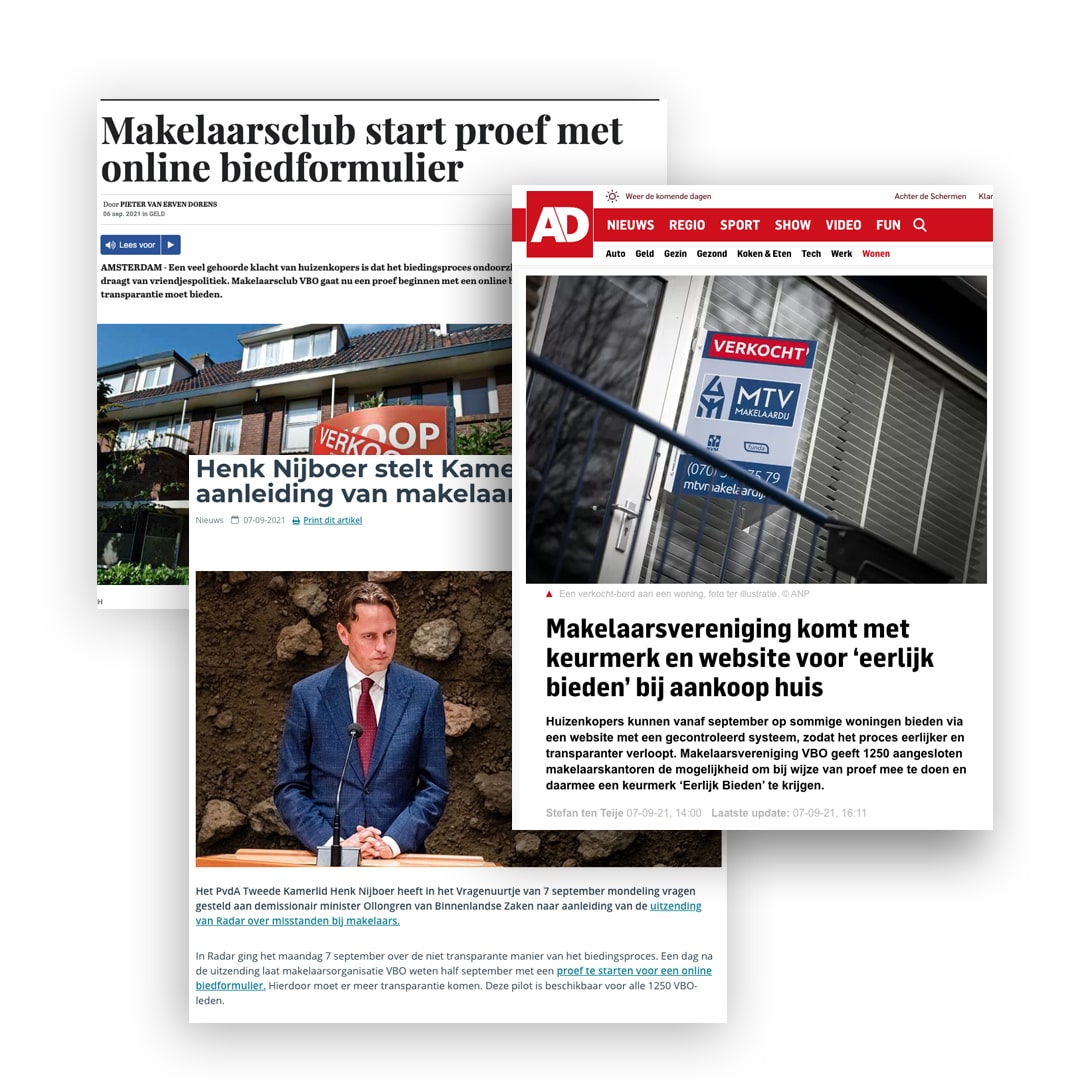 For consumers and brokers
Why is Eerlijk Bieden important?
In a dry-boiling housing market, tensions can run high. It is therefore of great importance that there is no doubt about the role of the broker, the director of the sales process. Thanks to the Eerlijk Bieden quality mark, nepotism, prohibited price agreements and discrimination are easily avoided.
Eerlijk Bieden introduced the bid log to the brokerage industry in 2021. Thanks to this bid log, the sales process has become transparant and verifiable, with success! The bid log will become mandatory for brokers as of January 1. Don't worry it will soon also be regulated by law!
What do candidates and sellers say about us?
Eerlijk Bieden has been able to help many sellers and house hunters since its launch in 2021!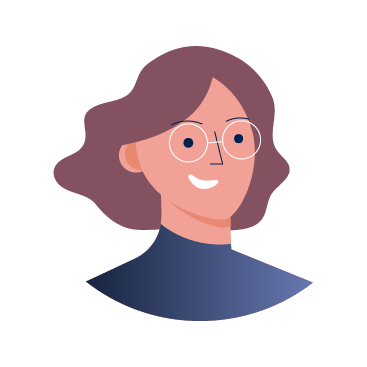 Finally, insight into the sales process! The bid log gives me very useful information to use in my next bid.
House hunter in Amsterdam
After stories in the media, I thought it was important that everyone should get a fair chance to bid. That is why I think Eerlijk Bieden is a great initiative!
Read all news and blog posts about the Eerlijk Bieden label.
Where can I bid on a property?
To bid on a property, the real estate agent must invite you to do so using the bidding form. On this page you can find all the information about the property and place a bid in a few clicks.
Not had access yet, check with the appropriate broker to be sure!
How does Eerlijk Bieden work?
Through Eerlijk Bieden 's bidding platform, we enable the broker to sell homes in a variety of ways.
From registration to 'traditional bidding', we ensure a conclusive bid log and audit the sales files. In this way we provide an accessible way to comply with future laws and regulations.
Are there any costs for the consumer?
No, Eerlijk Bieden is a quality mark for estate brokers.
Neither the seller nor the candidates (or buyers) have to pay anything for this system; that wouldn't be fair either!
We ask affiliated brokers for a contribution. We deliberately use a low price to ensure that it will not be deducted from the commission.
Can it still be tampered with?
No, we digitally log all steps in the process. The broker, seller, or candidates cannot make changes to this data. The bid log is then created fully automatically.
Does Eerlijk Bieden come at the expense of sales results?
No, our system only ensures that your estate broker complies with the industry rules at all times. Because the sales process is still exactly the same (closed registrations), the sales result will never suffer. 
Can my broker also submit an offer on my behalf?
Anyone who has received the bid form can submit an offer. Your broker can also simply use the bid form to submit an offer on your behalf.
Will my data be shared with third parties?
No, we only ask for the info that is really necessary to submit an offer, such as your contact information or bid details. 
All other personal data will never be shared or sold to third parties. That would not really fit our name.
How do I know if a broker is affiliated?
Only affiliated members may use our seal of approval. Want to be sure your broker is certified? Then check out our member page.
Questions about Eerlijk Bieden?